Welcome to ImaginationUnlimited.com
Georg Jensen Museum Acorn Exhibit!
During the summer of 2007, the Georg Jensen Museum in Copenhagen celebrated its 25th year of operation under the curatorship of Michael von Essen. To commemorate this event, Georg Jensen had mounted an exhibition to demonstrate the broad range of utensils in the Acorn (Konge) pattern designed by Johan Rohde in 1916. To this end, the museum has accumulated as many examples as possible from their collection and from items which are still in production. It was our privilege to be able to loan the museum over 50 items which they had been otherwise unable to locate. Below is a poster for the exhibition, which can be clicked to open up a larger image: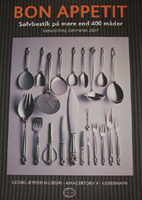 View our Inventory
Make sure to check out our searchable Inventory System. We have almost every Georg Jensen flatware pattern up, as well as a few other patterns by Dansk, Frigast and Mogensen. We also have some jewelry up, mostly Georg Jensen, but also other makers such as Allan Adler and Hans Hansen.

Ebay
We may have some items currently up on ebay, so make sure to take a look here.

Hillsboro
We have a cabinet of wonderful items up at Hillsboro Antique Mall in Deerfield Beach, FL. You can find directions and information on their website at http://www.hillsboroantiquemall.com. Here are some pictures of our booth below, click to enlarge them:







Sugar Chest Antique Mall
We also have a cabinet at Sugar Chest Antique Mall in Pompano Beach, FL. You can find directions and information on their website at http://thesugarchestantiquemall.com. A few pictures of our booth are shown below, click to enlarge them:





site by: Jamie Unger-Fink